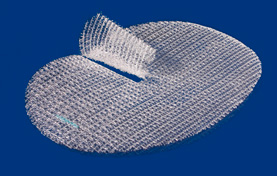 About the study
The study compared two types of mesh used in the repair of an inguinal hernia. This randomised controlled trial compared the standard light-weight polypropylene mesh with a newer adhesive mesh which does not need to be sutured to tissues. We are investigating if this mesh is as effective as the standard mesh, and if it offers benefits in terms of reduced operating time & a decreased incidence of chronic groin pain.

Patients who had an open repair of their hernia were invited to participate in this study. They were given an information booklet about the study to take away. If they decided to participate, they signed a study-specific consent form when they visited the pre-assessment clinic prior to surgery. Their GP was informed of their decision to participate in the study.

The study involved a total of 176 participants. All have undergone their surgery, and the study is now checking if they have pain or recurrence of the hernia. The study should be published sometime in 2015.